Born in Budapest, Nagy immigrated to Canada in 1957 in a hair-raising escape from Budapest during the Hungarian Revolution. He mastered English so quickly that he became his high school class valedictorian in Montréal in 1961. After graduating from Princeton University he entered the options market in New York, then Chicago, before retiring to Las Vegas to play the other game he loved, poker. Like Mark Molson, he died in 2003 after suffering a heart attack playing his second-favourite game, at the Bellagio in Las Vegas.
Nagy was part of a young group of Montréal players mentored by Sam Gold. A WBF Life Master, he performed the unique feat of coming second twice in the World Open Pairs (1978 and 1990), each time with a different partner and both times losing to the same player, Marcelo Branco of Brazil. Each time, Branco also played with a different partner.
In addition to his two World Open Pairs silver medals, Nagy won a bronze medal in the 1982 Rosenblum Teams, two Canadian Open Team Championships (1980 and 1981), and four North American titles (1978 Mitchell Open BAM Teams, 1991 Grand National Open Teams, 1993 Vanderbilt Knockout Teams, and 1995 Jacoby Open Swiss Teams).
Nagy and his favourite partner, Eric Kokish, were awarded 2nd place in the Bols Brilliancy Prize for best defensive hand in the 1980 World Team Olympiad.
Nagy was renowned for his conservatism in the bidding, preferring to win his points with terrific card play. He once agreed that he needed a hand that most players would open with a strong two bid in order for him to jump shift. Despite that, Nagy and Kokish won the 1978 Romex Award for the Best Bid Hand of the Year. On that hand, they got to a solid, making slam despite an opening bid and response being made before they entered the auction.
Playing with Kokish, their effort on the following deal, from the 1978 World Pair Olympiad in New Orleans was equally as brilliant…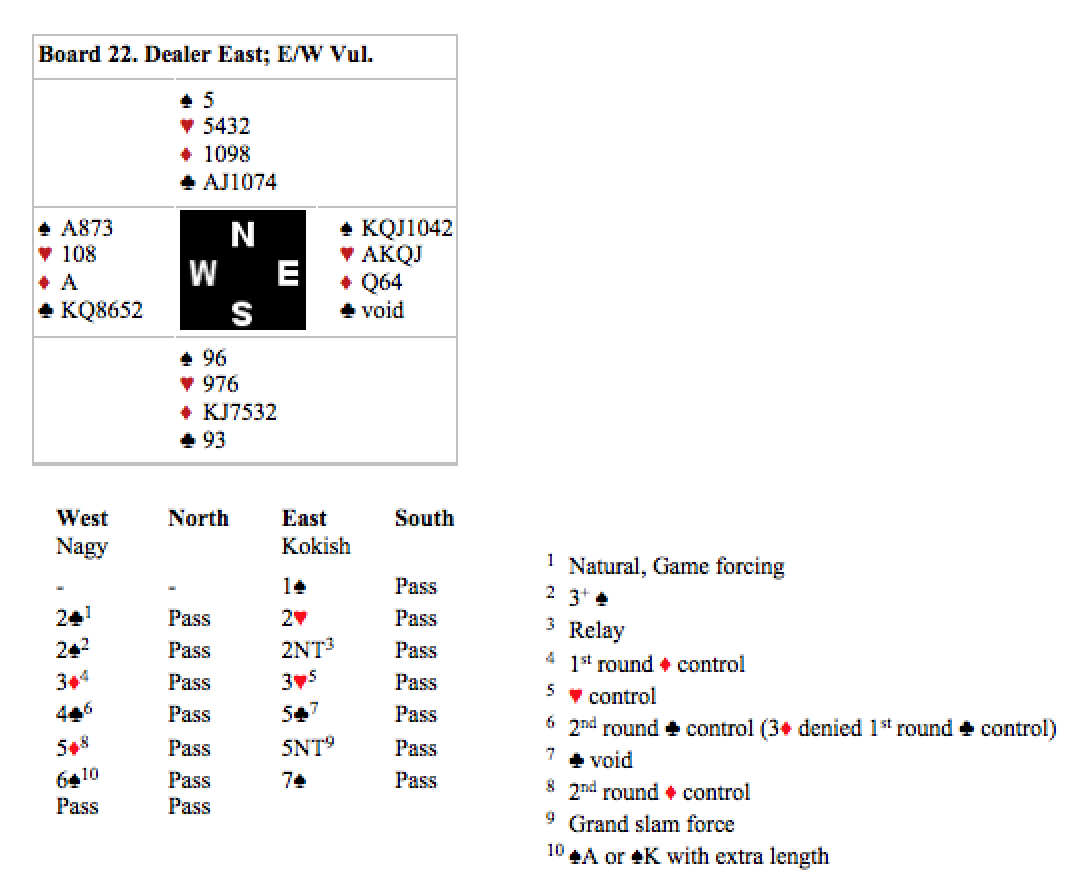 Bidding the grand slam was worth a 74% score.