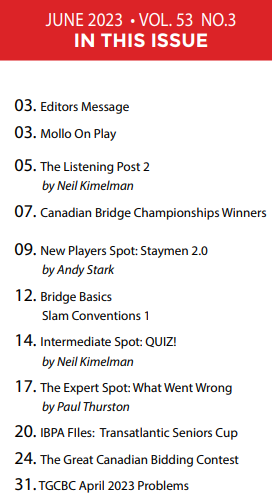 Get to know Bridge Canada, the online magazine of the CBF. The April issue is now available.
CBF members can access this issue and previous issues by selecting "Magazine" from the top menu, or by clicking the "Bridge Canada Magazine" red tab on the left side of the home page.
(See the note at the bottom of the page if there is a login problem).
There is something for everyone. In this issue, you will find the lists of all medallists of the recent Canadian Bridge Championships, as well as infornative and interesting articles on various topics, including: The Listening Post, Stayman, Slam Conventions, What Went Wrong, answers from the expert panel to the Canadian Bidding Contest, and deals published by the IBPA where some of the world's best players were in action.
West
North
East
South

Matchpoints. Dealer West.
Neither Vul. As South, you hold:
♠ — ♥ A43 ♦ Q8653 ♣ QJ963
What is your call?

♠
Pass
1NT
?
Learn more about the successful action with this hand in The Listening Post article (page 5).
.
We invite you to enter the August Bidding Contest and see how your answers compare against the Expert panel in the next issue.
If you are not a member of the CBF, you can join by clicking the "Members/Join the CBF" on the top menu. Membership is only $20/year.
Note: If you receive a WordPress error message after filling in the required boxes during login, please click on the back arrow and you should be back on the magazine screen – or click on the magazine page again and it will open correctly. If the problem persists, please write to: webmaster@cbf.ca.