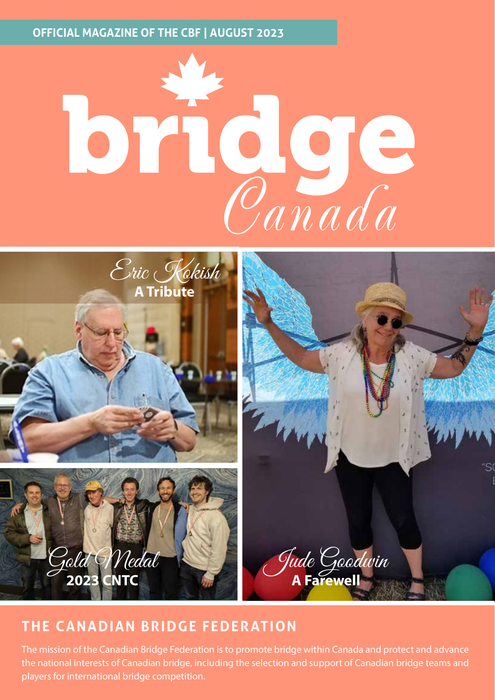 Get to know Bridge Canada, the online magazine of the CBF. The June issue is now available.
CBF members can access this issue and previous issues by selecting "Magazine" from the top menu, or by clicking the "Bridge Canada Magazine" red tab on the left side of the home page.
(See the note at the bottom of the page if there is a login problem).
This issue includes highlights from the recent Canadian championships, and features several photos of the winners. It also contains a number of articles of interest to all and how the experts responded to the latest version of the Great Canadian Bidding Contest.
West
North
East
South

Dealer West. Both Vul. As South, you hold: 
♠ 5 3 ♥ J 10 9 8 3 ♦ K 9 8 ♣ J 10 6.
What do you lead against 3NT?

Find out what happened in the CSTC Final, in this issue of Bridge Canada.

 
 
 
1

♣

Pass
1

♦

1♠
1NT
Pass
3NT
All Pass
We invite you to enter the October Bidding Contest and see how your answers compare against the Expert panel in the next issue.
If you are not a member of the CBF, you can join by clicking the "Join the CBF" red tab on the home page. Membership is only $25/year.